Free Migration
We want you to enjoy our service and therefore, if you are currently hosted with another provider, we do ourselves the migration to guebs. Convenient, fast and free.
IMAP, POP3 and Webmail
You can set up your email account on your computer or mobile phone using POP3 or IMAP. In addition, you can access mail using the Webmail service.
Effective AntiSpam protection
We implement various protections against spam that are very effective. No more Inbox filled with SPAM.
Mail redirects
In addition to email accounts, you can create unlimited mail redirects. For example, you can redirect post from one domain to another, or from an address of email to multiple addresses.
DNS Records Management
From the Email Panel you can modify the DNS records for your domain. For example, this allows you to host the mail with us and the web in an external service.
Daily backups
Your emails will always be safe, as every night we make a new backup and store several copies of different dates.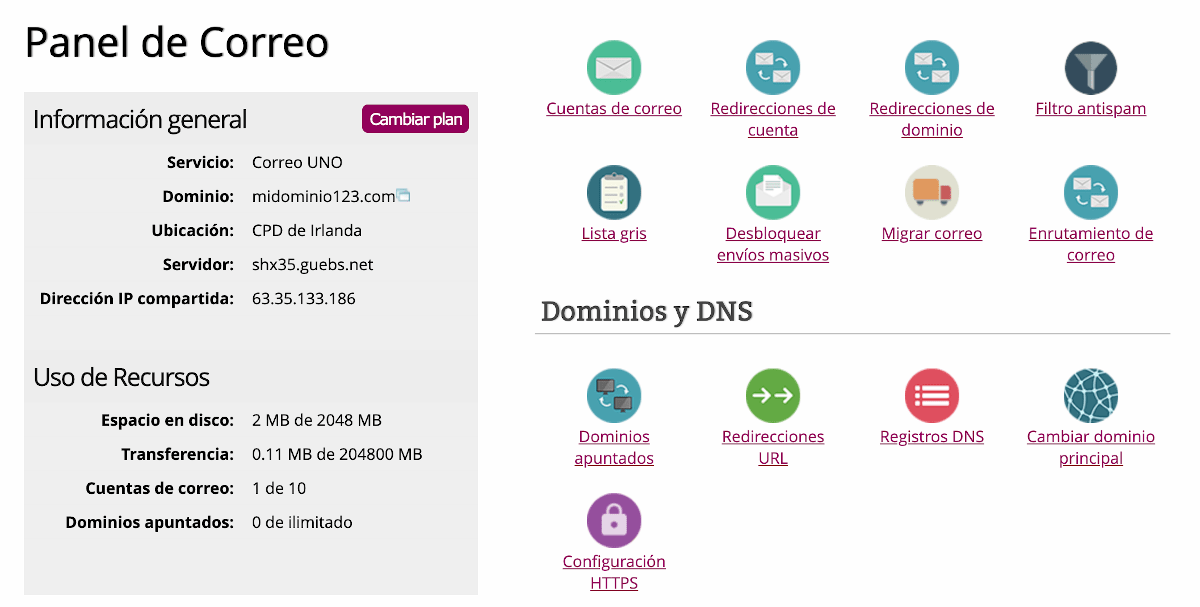 Simple management Panel
From the Email Panel, you can manage your mail accounts and mail redirects, as well as configure the anti-spam filter and modify the DNS records for your domain.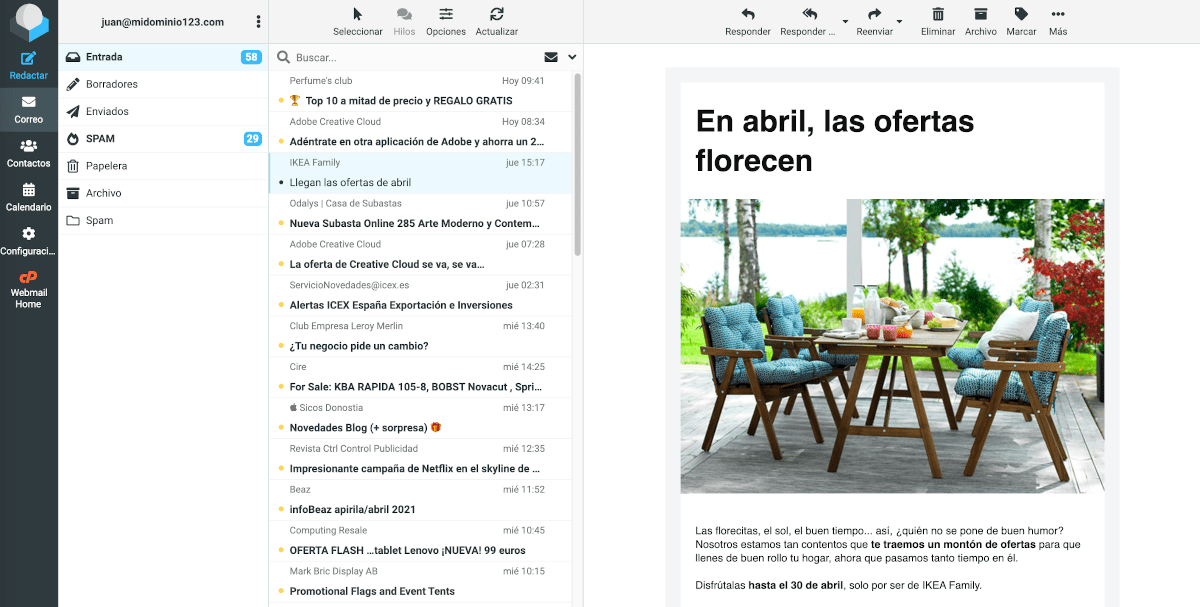 Convenient and easy webmail
The Webmail interface is simple but powerful at the same time. You can read your mail and manage your contacts from anywhere.
Frequently asked questions and answers
What is this service?
It is an email service that meets the needs of most individuals and businesses. If you are looking for a business communication and productivity service, we offer Google Workspace.
How is it different from Google Workspace?
Google Workspace is a full suite of communication and productivity tools offered by Google. Our Professional Mail, on the other hand, is an email service only.
If your idea is to set up your mail in Outlook and little else, the service that suits you best is our Professional Mail. On the other hand, if you are going to use the Gmail interface to read your mail or you need to share calendars and agendas with your colleagues or hold regular videoconferences, we recommend that you sign up for Google Workspace.
Who is this service aimed to?
The majority of organisations and individuals who need an email under your own domain account and do not want to spend much money.
Which of the 2 email plans is best for me?
If you are an individual, in most cases the ONE plan will be sufficient. On the other hand, if you are migrating from another provider or service, you may be using a lot of space and, in that case, you may need the DOS plan. Contact us and we will clarify this for you.
If you are a company or organisation, in most cases the DOS plan will be the most appropriate.
What do I do if I ran out of space?
If you have the UNO plan the best option is to switch to DOS plan. If you have DOS plan, you can add extra space for 12,00 € annual per GB.
Do you offer money back guarantee?
Yes, we give you 45 days to try the service and if you are not convinced we will refund all the money you have paid for the mail service.
Talk to us!