Hosting Solutions for WordPress
WordPress is one of the best CMS in the world today, mainly to create and manage blogs, but thanks to its flexibility is also a very good alternative as generic content manager .
We love WordPress and we are experts in hosting for Wordpress. We offer a wide range of different solutions for its hosting, ensuring all of them perform well and everything works as it should.
In general, to build and host a website using WordPress recommend any of our hosting plans, because they provide enough power for most web sites and because it is very easy to install WordPress from the Hosting Panel.
Those that manage many websites or create them for your clients you can enjoy the same service of hosting hiring any of our Reseller plans. In addition, you obtain better prices, the flexibility to create hosting accounts immediately and the convenience to manage all accounts from a single tool.
For websites with large number of visits, we recommend the use of a Cloud Premium server, which offers all the advantages and ease of a shared hosting along with the power and privacy that only a dedicated service can offer.
Choose your ideal hosting solution
The perfect solution for sites with low traffic or application development
Up to 20 GB of space
Up to 30,000 visitors/month
Good performance and easy to use
WordPress installer included
From 2,99 €/month
For resellers or for those who have many websites.
3 to 100 GiB of space
Up to 30,000 visitors/month
Accommodates all websites you want
WordPress installer included
From 9,99 €/month
Advanced solution for popular sites or complex applications
40 to 80 GiB of space
Up to 500,000 visitors/month
Top performance and privacy
WordPress installer included
From 41,60 €/month
How to start using WordPress?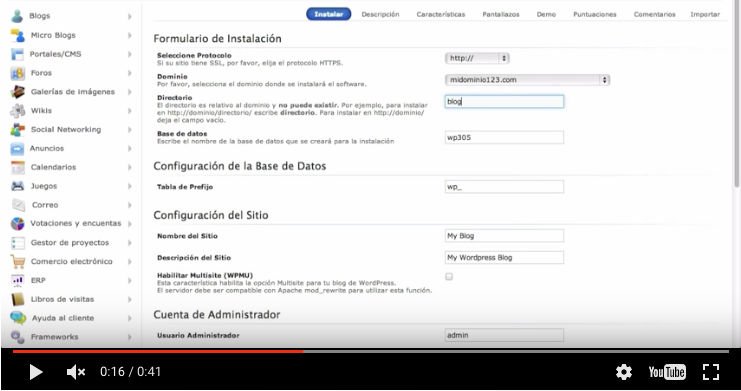 Install and start using WordPress in any of our hosting plans is really quick and simple, just use the installer built in the Hosting panel such as shown in the video How to install WordPress.
© guebs cloud hosting, SL -
Legal Notice
Prices listed in EUR ( € ) and do not include 21.00 % VAT